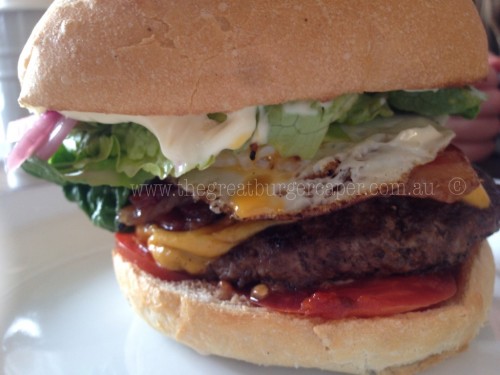 Today's adventure was to the Local Burger Co – recently opened in Croydon South. It's also located in Carlton. Place was small and very busy. Waited approx 20 mins for the burger.
Ordered "The Big Burger" (the lot) but with no beetroot (Sorry, beetroot has no business being in a burger!). It was pretty good. Nice patty, well put together and stabbed through the middle with a steak knife for effect!!
Complete with American Cheese, egg, BLT, onion, tomato relish and mayo. I'm not normally a 'mayo on a burger' kinda guy, but this one was good – not too much, and it complimented the taste reasonably well.
Worth a try and the chips were fantastic!
Location: The Local Burger Co, 114 Bayswater Road, Croydon VIC 3136