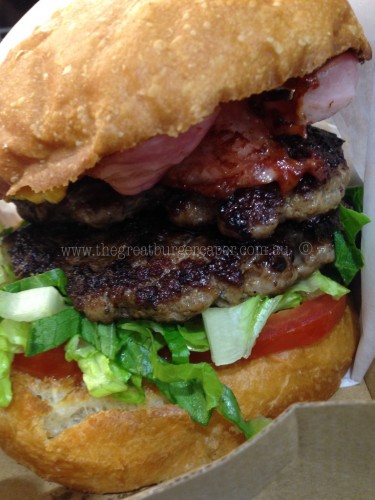 Its been quite a while since the last review, in fact not since last year?! I have been wanting to get into another new burger, and on the weekend I found myself in Acland Street, St Kilda at lunchtime so headed for "Tommy Tuckers". I have not heard much about this place, so was keen to find out what it was like.
This is a fish n chip shop styled take away place, that was packed, although this could simply have been because it was a nice, warm Sunday afternoon in St Kilda?! Anyway, whilst there were a number of burgers to choose from, my choice was easy – "Double Deluxe" with 2 x 100% Aussie beef patties, double trimmed bacon, cos lettuce, tomato, caramelised onions, dill pickle, tomato relish and herbed mayo. I added an egg too for good measure, and I definitely took out the beetroot!!
This burger looked nice and fresh. Meat was "loose" and reminded me of homemade rissoles, and I'm not sure who "trimmed" the bacon, but there was plenty of rind on there to chew through, and the herbed mayo was nowhere to be seen either! This burger was "ok", but lacked that punch of flavour you look for in a gourmet burger, especially the meat, which has it placed as a good fish n chip shop burger at best.
Chips were terrible – plain, bland and boring.
If you're hungry and feel like fish n chips, this is a good option, but not if you're after a high quality, knock your socks off experience.
Not the best burger start to the new year!!
Location: Tommy Tuckers, 141 Acland Street, St Kilda VIC 3182