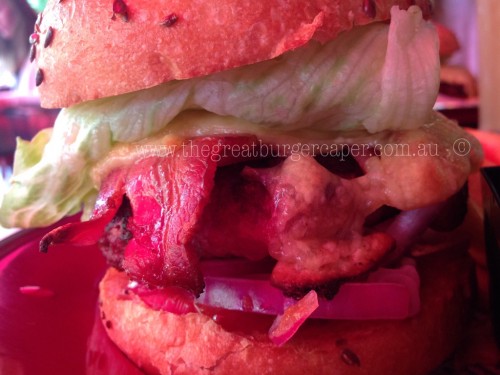 Well, we are into a new year, and today I got into a new burger! Got out in the sun and travelled into the CBD, stopping by the "Left Bank Melbourne" in Southbank – perfectly located on the banks of the Yarra and with a large riverside terrace too.
The surroundings and menu are easily adaptable, and seem well suited for anything from a casual drink and bite to eat, to a business lunch or dinner. Today, I was feeling like getting back to the 'Glory Days', and could not go past "The Boss" – 100% grass fed Angus patty, BTL, smoked cheddar, Spanish onion, tomato relish and herbed mayo! It comes with beetroot too, but I still don't believe beetroot has any business being on a burger, so it was again removed!
The patty was good, but seemed to crumble when eating it and would benefit from being a little thicker too. Also, given the height of the burger, the bun needs to be softer so you can squash it down and "leverage the bread" more to make sure you can get your mouth around it easier. The rest of the ingredients worked really well together, except maybe the Spanish onion, but this was offset by how good the herbed mayo was – and it wasn't too over powering either.
Thick cut chips on the side were ok, but were "just chips", nothing amazing.
Overall, the burger was ok, and whilst it is served with a schooner of Heineken, the value for money isn't there as the $26.50 price tag is enough reason to expect more.
Location: The Left Bank Melbourne, 1 Southbank Boulevard, Southbank VIC 3006