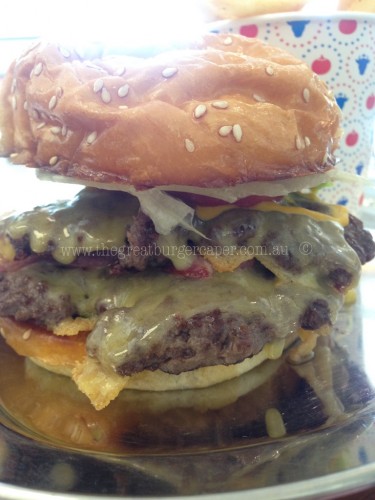 Another day, another burger! This time I found myself at the new, extended Eastland in Ringwood. I was in need for an afternoon snack, so headed to the new Huxtaburger that has opened there. I visited Huxtaburger in Prahran back in October 2014, and whilst early on in my burger reviews, it was ok – split decision!
This time I was back to try the "Theo" – double beef patty, double cheese, BTL, BBQ sauce, mayo, mustard and pickle. Given this was a "snack", I resisted adding a fried chicken fillet this time. The burger looked good and looked to be the right size to help curve my growing appetite. The meat and cheese were really tasty, however the mayo and BBQ sauce must have run off together because I could not taste either of them! This left the pickle and mustard to team up and take over the taste of the burger. Whoa! Way too much!!
The other part that stood out was the bun and it's super butteriness. The bread rolls had obviously been doing laps in tubs of butter all day, because this thing was oozing with butter which made for a super sweet, greasy, fattier experience.
Chips on the side were pretty tasty, but not enough to make this overall experience an awesome one.
Huxtaburger has a good reputation, so maybe they were having an off day?! Or maybe this is the cost of expanding into multiple sites and diluting quality?! Who knows? Either way, I won't be rushing back there in a hurry.
Location: Huxtaburger, Eastland Shopping Centre, 175 Maroondah Highway, Ringwood VIC 3134