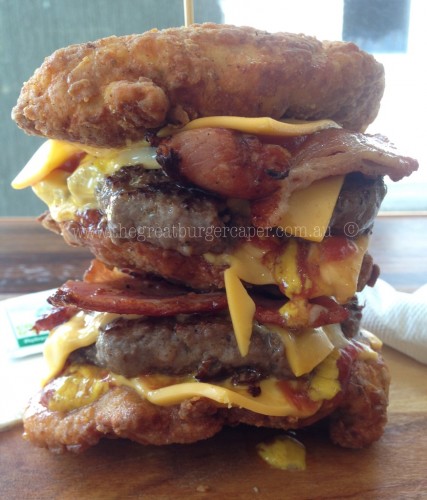 Today's burger adventure took me back to Café 51. This little place in South Melbourne is famous for their high quality, low cost, designer burgers and I have been dying to get back there. Last time, I had "The Boss" (you can check out that review if you click here) and this time I wanted to tuck into something more adventurous.
I had already reviewed the menu online and decided what I was going to have, so the excitement started on the way there, not to mention once I'd ordered. I went for "The Paralyzer" – no bun, 2 crispy southern style fried chicken pieces as the bun, with a third piece of fried chicken in the middle, 2 beef patties, bacon, 5 slices of american cheddar, ketchup, american mustard and house made aioli!
This burger was big and looked sensational. It was literally dripping with flavours. Was it going to taste as good as it looked? And as good as I had built up in my head?….. it had to!? surely?!
It was being held together by a wooden skewer, and it took me a while to work out how I was going to eat it. I decided to split it up, so took the first section from the top piece of chicken to the middle piece, and then ate the second section, using the bacon as the top. The fried chicken is one of the best going around and when it's mixed with a some tasty beef, melted cheese, bacon and sauces, it is nothing short of amazing. This was a delightful, near heart stopping experience and I enjoyed every mouthful of it!
The only criticism was that there was probably a fraction too much mustard and not quite enough ketchup, but it wasn't enough to detract from the overall good taste. It also needs to come with a temperature warning, because it was steaming hot and I think I burnt my thumbs holding the two pieces of hot, fried chicken on the outside, but I just had to have it and couldn't sit and look at it any longer, so the injury was worth it!
If you haven't already been to Café 51, then I suggest you definitely put it on your list, and if you have been there then you should get back there to try another one of their marvellous creations. You will not regret it!
Location: Cafe 51, 51 Buckhurst Street, South Melbourne VIC 3205