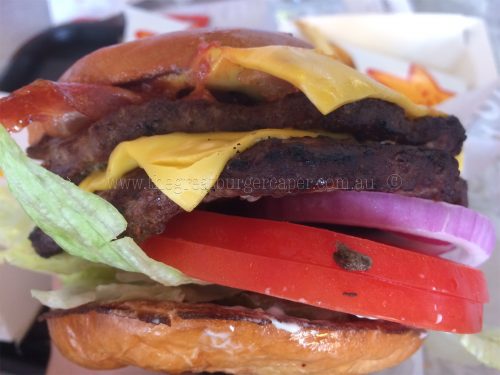 Carls Junior opened recently at Knox and I was actually there opening weekend, however the line and wait was too long and unfortunately, I didn't have the time. Since then, I've been waiting to visit again, and luckily found myself there for lunch a few weeks ago. There was still a wait, but not like the opening weekend.
I ordered the "Original Thickburger" which came with 100% Angus beef patty, melted American Cheese, tomatoes, red onions, pickles, lettuce, mustard, mayo and ketchup. I was super hungry too, so I doubled the patty and cheese for good measure, plus I added some bacon too.
The place was not exactly packed, and the wait was still over half an hour, which felt like a lifetime given how hungry I was feeling. Finally, my meal arrived and I couldn't wait to get stuck into it. I must admit, for a "thick burger" the patties were pretty thin and it was not the most attractive looking burger but I have learnt not to judge a burger by it's cover, so to speak.
First bite and what hit me the most was…… how bloody cold it was. Now, I've had a lot of burgers in my time and understand if they are 'cool' sometimes, which can also make for good hoovering, but this was legitimately cold. I couldn't believe I waited so long for a cold burger?! I didn't say anything either because I was afraid it'd take another half an hour and my stomach would not have survived without food for that much longer. I decided to persevere and work my way through it.
The burger was all over the place. Certainly not made with love. Ingredients were uneven, like the 2 thick slices of tomato that hadn't been separated and were hanging out one side of the burger or the one leaf of lettuce shoved onto the opposite side. It was like the bun was on one side of the kitchen and the ingredients had been flung onto it from across the room, wrapped tightly and pushed out without a care in the world. Sorry, I meant to say, it also probably sat there for 20 minutes before being delivered.
Luckily, the flavour of the meat was sensational, which for me, started to gain back some ground, but it was too late. The temperature was too disappointing, so overall, not a great experience. Chips on the side were ok (also cold) and free soft drink refills are a good thing.
Apparently, Carls Jnr are kind of a big deal in the U.S. – not sure why?! And they openly display a sign saying "Best Burgers in Australia" – really?? Maybe it was just a case of new store jitters or a one off bad day. Either way, they are a long way form the best in Australia and it'll be a while before I find out again.
Location: Carl's Jnr, Westfield Knox, 435 Burwood Highway, Wantirna South VIC 3152