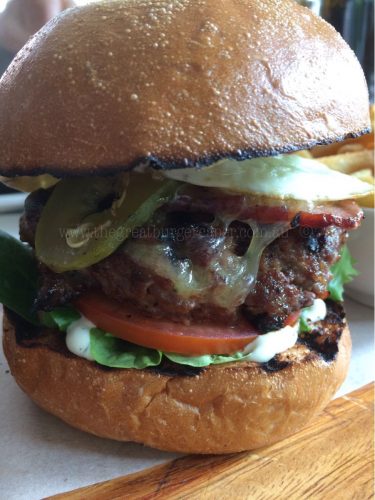 I met some friends for lunch recently in Southbank, and when it was suggested that we simply go to a "beer café", I was onboard as I knew that the likelihood of the menu containing a burger was high! We headed to the closely located, Belgian Beef Café in Southbank and despite the extensive menu, for me, the choice was easy!
I ordered "the Belgian Beef Burger" which came with char grilled black Angus beef pattie, smokey bacon, tasty cheese, tomato, lettuce, chilli pickles, Dijon mustard and dill mayonnaise on a brioche burger bun. It was also another "hold the beetroot" moment and I took the suggestion on the menu to "add fried egg" for $2.
This was an impressive looking burger. It stood tall and looked like it had been constructed well, with hardly any ingredients hanging out at all. After waiting the regulation, "cooling off time" I picked it up and got stuck into it. The beef was ok, although a little mushy for my tastes. I was glad I added the fried egg as it was spot on and went perfectly with the delicious bacon. Pickles were nice but there were way too many of them and it took over the taste of the burger a bit. Mayo was ordinary and the lettuce had some kind of vinaigrette dressing on it which didn't compliment the burger at all.
Onion rings and chips on the side were both average, and the waiter chose a "Dancing Pony" beer on tap to compliment the meal.
Overall, a below average experience. The burger had potential but just had too many things going against it. Otherwise, it would still be a good place to relax with a few drinks and enjoy the usual pub favourites such a Parma or steak.
Location: Belgian Beer Cafe, 5 Riverside Quay, Southbank VIC 3006