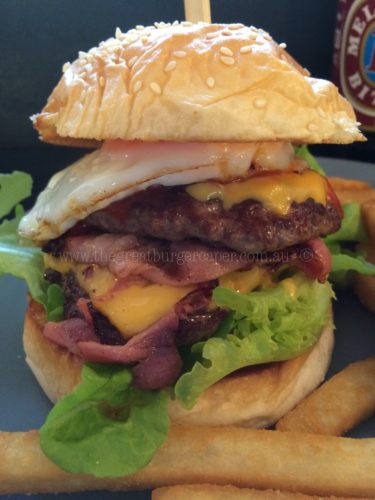 Had the mid-week munchies recently, and was lucky to get out and about for another burger adventure. This time I headed to a place called, Captain Melville's in the CBD, which is just a short stroll from the Victoria Market. According to their website, their menu is described as "pub food. Done well", and I wanted to see how their burger stacked up.
This place was established in 1853 and from the minute you see it and walk in, it has that warm, old pub feeling to it too. I grabbed a menu and decided to go with the "Captain's Burger" which came with double beef patty, double cheese, double bacon, fried egg, ketchup and pickles. As I waited, I enjoyed the pub surrounds and watching the hoards of workers hitting the pub for their lunch.
My burger arrived and it looked terrific. I picked it up and got stuck into it straight away. A few bites in and it hit me….. this was a seriously good burger. The meat was full of flavour and the rest of the ingredients were fresh and tasty too, especially the cheese, bacon and egg. The bun was fantastic. In fact I think it was one of the softest buns going around!! Put simply, it was a no nonsense, solid, tasty burger that really hit the spot.
Chips on the side were really good and this time, to complete the pub experience, I went with a boutique beer that seems to be making a comeback in lots of places – Melbourne Bitter!
Overall, I must admit, given this place was not a straight up, gourmet burger joint, I was really sceptical about how it would go. Pleasingly, it turned out to be quite a surprise packet and great experience all around. So if you are looking for a pub styled experience, where the place has lots of character and the burger is super tasty, then you should give this place a go!
Location: Captain Melville, 34 Franklin Street, Melbourne VIC 3000