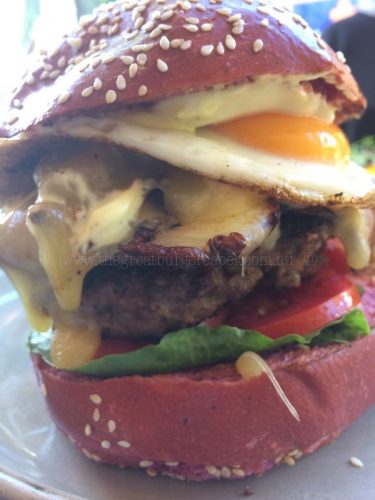 Caught up with a friend of mine recently and met at a little café called the "Son of Tucci" in Mount Waverley. Whilst probably not known for their burgers, I couldn't resist.
Burger : Tucci Burger
Ingredients : Black Angus beef, Monterey Jack Cheese, tomato, salad, pickles, American mustard mayo, bacon
Added extra's : egg
Patty : 6/10
Bun : 3/10
Sauces : 6/10
Ingredients : 7/10
X-Factor : 6/10
As soon as it arrived, I thought, "gee that bun looks red?!" and sure enough the waitress confirmed that it was in fact a beetroot bun!!! OMG!!! Hold the Beetroot!! Don't you think the menu should state that?? Hmmmmm. Anyway, I sucked it up and decided to get on with it.
The burger and ingredients were actually quite good, especially the beef, bacon and egg. And surprisingly, the bun didn't kill me either!! That's not to say that I will be asking for a beetroot bun going forward though.
Location: Son of Tucci, 5 Hamilton Walk, Mount Waverley Victoria 3149