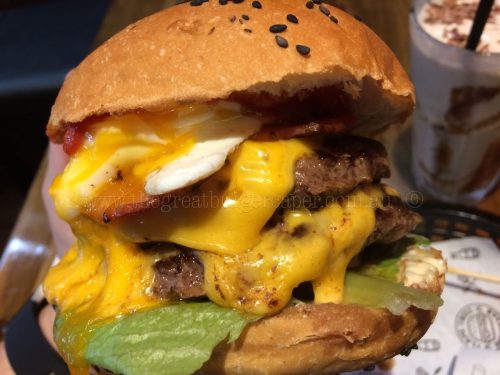 It was a Sunday afternoon and the weather was typical for Melbourne – cold enough that you need to rug up, yet sunny enough that you need to wear sunglasses. I was in the mood for a burger, so I headed to Flame Trees Burger Bar in Ferntree Gully. This was the second visit in recent weeks and I was excited to be having the opportunity to try something else on the menu.
I had a craving for a traditional styled burger with the lot, and couldn't go past the "Great Southern Land" burger – beef, cheese, bacon, lettuce, tomato, mayo, egg, tomato sauce and of course, "hold the beetroot!". Given I was particularly hungry, I also added another patty and extra cheese and why not too!?
This burger looked good when it arrived and I couldn't wait to get stuck into it. It was just the right temperature – warm and not too hot or as I like to call it, "woofable"! Adding the extra patty was a good move as the beef tasted terrific, and the gooey cheese was devine. Combined with the bacon, egg and other fresh flavours, we were on a winner! Bun was good and lasted through the trip too.
Chips on the side were decidedly tasty too, with just the right amount of crunch. This time I tried a chocolate thick shake, which was really, really good. Sweet, but not sickly and with shards of chocolate mixed through too.
Overall, it was another good experience and one worth checking out for yourself! Eventually, I will try out their tripled up "dumb things" burger. Maybe next time?!
If you know your personal or business finances might not be in the best shape, get in touch with our blog sponsor, Conquer Finance for simple, solutions-based finance.
Location: Flame Trees Burger Bar, 40 Forest Road, Ferntree Gully VIC 3156