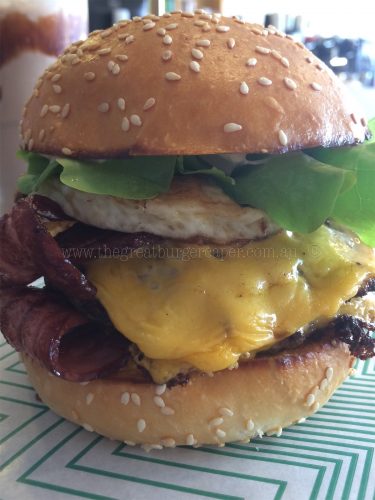 The new year had sprung and I was keen to get stuck into a new burger. I headed down to Berwick to try out "Mad Benji", which is a sister store of "Mad Patties" in Mitcham or is it a brother store?! Hmmm….. I'm not sure, but they are related somehow. I was really impressed when I tried Mad Patties (click here for review) so I was excited at the possibility of having another good experience.
This time I ordered, the "Double Madness" – 2 x beef, 2 x cheese, 2 x maple glazed bacon, lettuce, caramelised onion and MAD Mayo. I also subscribe to the notion that a burger is always better with egg, so I added that as well to top things off.
When it arrived it looked to be well constructed and made with some care and attention. I wanted to wait for it to cool down, but I was starving and couldn't wait. It tasted terrific. The bacon was what hit me first. It was so tasty and cooked perfectly, with just the right amount of crunch. I was glad there was double beef, as the meat tasted really good too. Cheese was good, butter lettuce was fresh, seeded bun wwas spot on and the MAD mayo was, well, mad! Adding egg was a good move as it further complimented the combination of flavours. There was just the right amount of everything and hardly any mess at the end either.
Chips on the side were delightful and the chocolate shake was one of the best going around.
Overall, a great experience and I was pleased to start the year off with a good burger. Definitely worth the visit to find out for yourself.
Don't forget to support the businesses that support this blog! Visit Conquer Finance for simple, no-fuss solutions to conquer your finances.

Location: MAD Benji, 12/215 Parkhill Drive, Berwick VIC 3806